Herald – the only purebred heavy-metal band from Estonia has ceased long-lasting creative celibacy. The first single "Masin" (The Machine) from the forthcoming album with the same name is released today, on the 1st of June, 2015.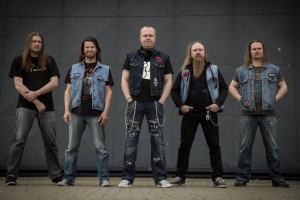 The band locked themselves behind the studio walls already in the autumn of 2014, and withdrew from all public activities. New single "Masin" sees the daylight on 1st of June, 2015 after a long period of magic, witchcraft and carving. Pre-ordering of the LP will start on the same day when the single is released. Pre-orders can be made at the Nailboard web store. The third full-length album of Herald will be released on 4th of July, 2015.
The track "Masin" is extraordinary because of the volunteers and fans of Herald who got an opportunity to participate in the choir, or The Hell Brigade mixed choir, as the band calls it. The topic of this single is grim, yet timely addressing the brutal machinery of the darker side of the world.
The single is available from YouTube and on the band's website. You can also listen to Spotify'st today as singles and iTunes.
Herald's new album has been recorded at the band's own Besat studio and has been mixed and mastered by Kristo Kotkas at Sinusoid studio.
See the video now!
Herald is:
Sven Varkel – vocals
Egert Vandel – guitars, backing vocals
Tauno Nava – guitars, backing vocals
Meelis Endla – bass guitar, backing vocals
Jaan Liinat – drums, percussion