On 1st of December Herald released their new album "Gaia"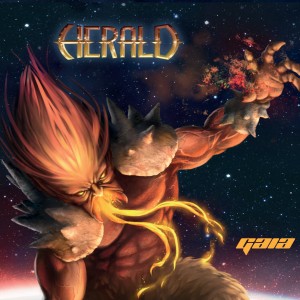 1st of December 2010 is a day which will be written in the annals of Estonian Heavy Metal, as Herald has released their second full lenght album "Gaia". Herald has worked on this album for the last 6 months and finally it is released. "Gaia" features 12 tracks including already published singles "Tuline teras" and "Anna tulla". On this record one can find also primal chant "Gaia", heavily hacking "Kõrbesurm" and "Hevilihas", faster tracks as "Kauged linnad", "Tormiratsanikud" and "Teadmata tund", slightly mellower "Ärkamine" and "Amanita", and some thrash-fuel "Veele, veele!". Band has remained loyal to its fans and Herald's musical style can be simply described as heavy-metal.
Herald's new album "Gaia" will also be digitally distributed globally in such net stores as iTunes, Amazon MP3, Last.fm, MySpace, Napster, Rhapsody, Spotify, Tesco etc – altogether in more than 20 places.
"Gaia" is tracked and mixed in "Music Works" studio by Arne Holm and mastered in "Studio Kuu" stuudio by Jaakko Viitalähde. Album is produced by Arne Holm and Herald. CD is distributed by Besat Records.
"Gaia" tracklist:
Kõrbesurm (M: E. Vandel L: M. Kalvet) 02:58
Tuline teras (M: S. Varkel L: S. Varkel) 03:57
Ärkamine (M: T. Nava, S. Varkel L: S.Varkel) 04:42
Tormiratsanikud (M: E. Vandel L: M. Kalvet) 04:07
Amanita (M: E. Vandel, T. Nava L: E. Vandel) 03:41
Kauged linnad (M:S. Varkel L: S. Varkel) 04:17
Veele, veele (M: T. Nava L: S. Varkel) 05:01
Gaia (M: E. Vandel L: S. Varkel) 05:16
Anna tulla! (M: T. Marjasoo L: U. Kadak) 03:31
Metaltron (M: E. Vandel L: M. Kalvet) 04:16
Hevilihas (M: E. Vandel L: M. Kalvet) 03:57
Teadmata tund (M: E. Vandel, S. Varkel L: E. Vandel) 04:28
Herald are:
Sven Varkel – Vocals
Egert Vandel – Guitars
Tauno Nava – Guitars
Mart Veski – Bass
Jaan Liinat – Drums
You can check on Herald in the following places:
Officcial webpage: herald.ee
Facebook: www.facebook.com/heraldmetal
Myspace: www.myspace.com/heraldmetal
Twitter: twitter.com/svenvarkel
ReverbNation: www.reverbnation.com/herald